Be Your Own Boss?
 Tired of working long hour for someone else??
Are you interested in working from home??
Would you like to be your own boss??
Have you thought about creating another stream of income??
*Learn how to get a FREE Premium Starter Kit*
Do you want financial freedom?
I have the solution for you.  Why not start a home-based business that enables you to express your unique self, and afford you to take care of your family the way you always wanted to?
Becoming a Young Living Essential Oils Distributer is only the beginning, you can then bring focus to YOUR business niche.
·       Start online business
·       Vendor events
·       Essential oil parties
The sky is not the limit!!!   Let go of the limited belief of "I can't..", "I don't..", or "I might..".  Let go!  The time has come to live your life apart from melancholy and doubt.  When you are entering the unknown, that's when you to say YES. Be Fearless!
​As a distributor for Young Living, I realized that I didn't have to sell, the oils purity and authenticity allowed them to stand alone in selling themselves.   YES, it takes work….  Let me ask you this, what doesn't?  Every ounce of work you apply towards YOUR business,  ALL of the rewards come back to YOU. $$$$
"God has already paved your path, all you have to do is acknowledge if you are on it." ~ CeeCee
As you use the oils, you will witness their therapeutic value.  The next thing you know, you start to share with everyone you encounter. (That's how I became a Business Builder Boss!  🙂
Joining our team,'The Sea Changers', you gain access to
·       One on One support from Moi (ME)
·        Private Facebook group support – learn different oil recipes
·       Online Business Building Camp Opportunities
·       Family Oriented Team that powers through Motivation
·       Education and Training
·       A Welcome Gift….and much more!
    Ready?  Or If you have further questions… 'Say Hello':)
Be A Boss!!
If you are willing to make the following commitments, you are well ahead in becoming a BOSS.
·       Invest in a Premium Starter Kit at $ 160.00 (value over $300.00)
·       Sign up for Essential Rewards, with a commitment in spending $100.00 a month on any of Young living products.  You will earn a percentage back in reward points for every dollar spent to use to get FREE Products!!!
·       Be Motivated, Dedicated, and Compassionate
·       Share how you use Young Living Essential Oils for your home with others.
How much money could I make?
When we talk about money, I am required to share the Income Disclosure Statement.  Young Living's transparency allows you to see what you can make at the different levels ahead of time.  You have the advantage to set your goals to earn monthly however much money you desire.  Your Success is measured by your efforts… Again, the sky isn't the limit. Reach for the stars…or in Young Living's case, Reach for the Diamonds!!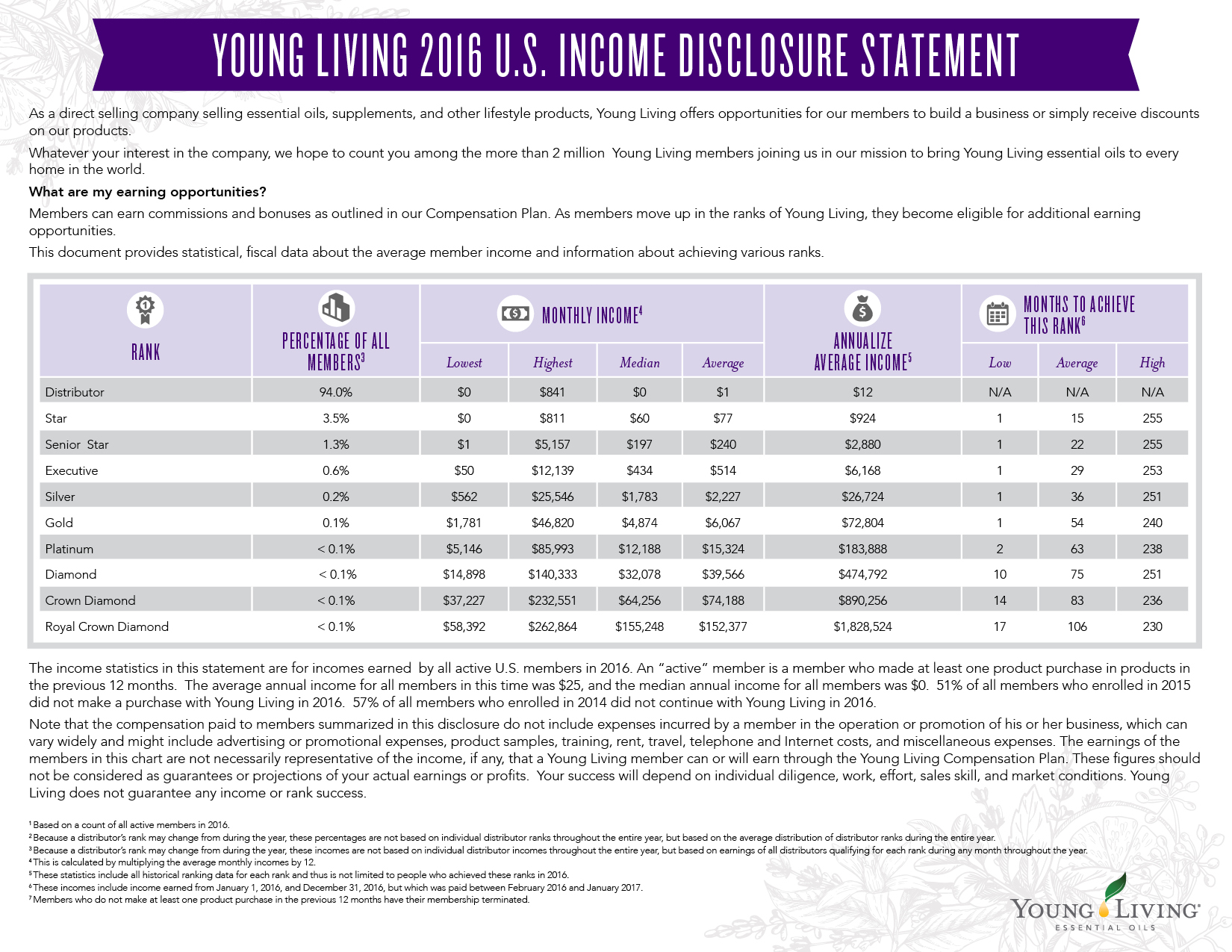 (Team Chanting) , "Lets get it!"